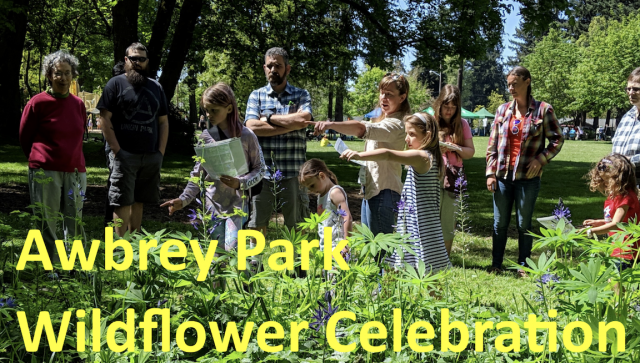 Join in the fun at the Awbrey Park annual Wildflower Celebration on Saturday, April 29th from 11 am to 2 pm. The park is located at 4291River Road. Take a self-guided tour and discover native flowers, shrubs, and trees. The Friends of Awbrey Park will be stationed throughout the park to help you find trillium, lupine, red Columbine, bleeding heart, violets, fairy bells, starry false Solomon Seal, Oregon myrtle, and much, much more. Other items to look forward to:
Live Music – Santa Clara's own Tim Foelker, and Jerry Finigan and Friends
Treasure Hunt – Search for native plants and earn a native plant while supplies last. Plants are provided by the City of Eugene, Buford Park Native Plant Nursery and the Small is Beautiful Farm.
Rock Painting – Rocks and paint provided. You make up your own design.
Horseshoes
Learning Opportunites about Santa Clara initiatives:
The Santa Clara Community Organization – Find out the kind of topics that the SCCO present at monthly meetings (you can attend SCCO meetings in person or via Zoom)
The Santa Clara Community Foundation – The SCCF is a 501(c)3 non-profit that supports several projects including renovating the old (1901) schoolhouse on River Loop 2 and returning Hileman Landing to a more natural state.
Lane County Master Gardeners mobile plant clinic will be available to answer questions.
The Irving Grange will be present to talk about their new mural project on the side of their building (1011 Irvington Dr)
Boy Scout Troop 182 – Thank the young men who have helped chip our trails for many years and been responsible for the flourishing natives on 'Boy Scout Bank'
CERT and Eugene EMCOMM will be at the event to give important information about Community Emergency Response and Emergency Communication. Learn about skills needed for fire safety, disaster medical operations, emergency communication, and a lot more.
Meet the Friends of Awbrey Park. The Friends just completed their 15th year of improving the park. If you haven't been to the park since before late 2015, it is time to visit the park once again. The city put in a new bridge to replace a slippery log. The bridge makes it safe to walk to the small forest in the east part of the park.
Bring a picnic. Children are more than welcome. The park features two playground areas (one for 2-5 years old and one for 6-12 years), a large playfield, a pollinator garden, Spring Creek and a small forest where you will find woodpeckers, mallards, newts, and salamanders.
For more information, please contact Kelsey Irvine, Native Plant/ Waterways Volunteer Coordinator, at 541-228-5349 or KIrvine@eugene-or.gov .