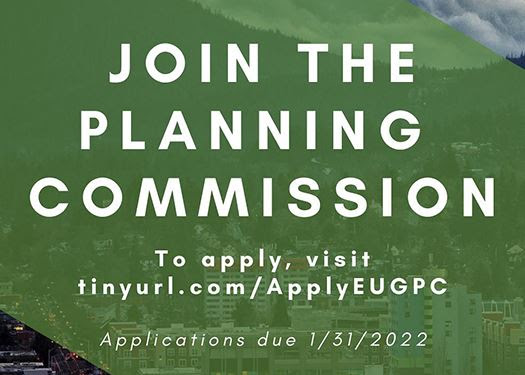 To apply visit tinyurl.com/ApplyEugPC
Recruitment has opened for a position on the Eugene Planning Commission. We are seeking residents living within Eugene's urban growth boundary who are interested in helping plan for our community's future. Participation on the Planning Commission is an excellent way to get involved in local government and is an interesting and challenging experience that can truly make a difference.
Members of the Planning Commission provide an invaluable service by advising City Council and city staff on a variety of land use and policy matters and by making recommendations on issues that affect our community, including housing, economic development, natural resources and transportation.
Previous experience with planning or development is NOT a requirement. The unique perspective of community members and a willingness to learn about different aspects of the planning process helps the City better consider the impacts of City decisions. The Eugene City Code requires that every effort be made to ensure that the composition of City committees reflects the diversity of the community.
Regular meetings are held twice a month, on the second and fourth Tuesday at 5:30 pm. Occasionally additional meetings are scheduled as needed. Meetings are currently held virtually.
More information on:
Eugene's Boards and Commissions
Eugene Planning Commission
Apply Here