The Santa Clara Community Foundation recently added stewardship of Hileman Landing County Park to its list of ongoing projects. SCCF, along with Lane County Parks and a team from Americorps/NCCC, is organizing a work party on Wednesday, February 8th, from 9:00 AM to at least noon to work on park projects (including invasive plant control).
Please bring sturdy outdoor shoes, rain gear, and work gloves. Tools, snacks, and hydration will be provided. It'll be a great way to gather community energy and to meet some industrious Americorps young adults from outside the area.
Hileman Landing can be found at the end of Hileman Lane. Hileman Lane branches off of East Beacon Drive—Directions. The park is a great place for dogs and short hikes to a side channel of the Willamette River this time of year—as water levels allow. There is a small parking area, and, if full, just park along the road, or better yet, bike or walk. Please do not park in front of the residence near the park gate entrance. Join us for work, fun, and community purpose. SCCF's goals for the "Hileman Project" is to improve riparian (i.e., riverside) health, and re-establish robust habitat for aquatic, terrestrial, and avian wildlife while keeping it accessible to visitors.
Please Download this Lane County Waiver of Liability and hour-tracking form, fill it out, and bring it with you.
Here is the park now in winter: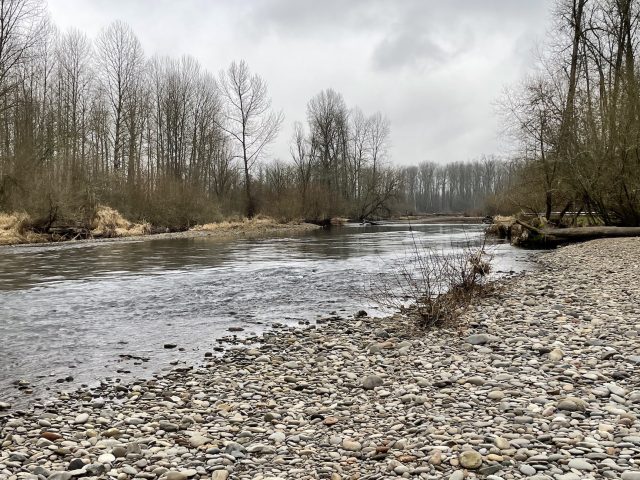 Here we are during spring and summer: