There's still time to engage and share your input on the Draft River Road-Santa Clara Neighborhood Plan! We are looking for your feedback on how well the Neighborhood Plan captures your community vision and priorities. The documents proposed for adoption or approval by the City Council and Board of Commissioners include:
Community Meeting this Thursday, May 25
Learn about and discuss the Neighborhood Plan at the upcoming Community Meeting on May 25 from 5:30-7:30 at the North Eugene High School cafeteria.
Join neighbors, as well as project staff and Community Advisory Committee members to talk about the plan, ask questions, and share feedback. Let us know you're coming by RSVPing here. We're excited to see you there!
Feedback Form Open through June 5
The Online Feedback Form will be available until June 5. We want to know:
How well does the Neighborhood Plan capture your priorities for Economic Development, Transportation, Land Use, Parks and Natural Resources, and Community Action?
What can be improved before the plan goes to City and County decision makers later this year?
Please share your thoughts, questions, and ideas for improvement using the online tool.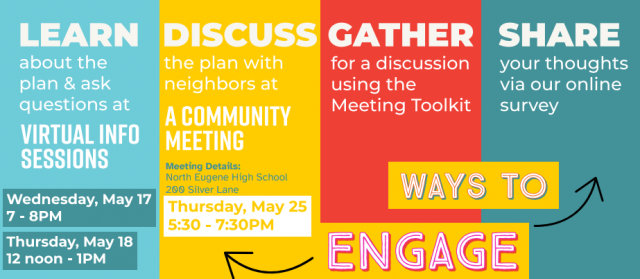 Info Sessions
If you missed one of the Virtual Info Sessions held last week, you can watch one of the recorded sessions here or read through the presentation slides. You'll learn about where we've been, where we are now, and where we're going with the neighborhood planning process. 
Meeting Toolkit
Bring together a group of friends, family, and neighbors to talk about the neighborhood vision and priorities! You can use our meeting toolkit to guide a discussion and provide your feedback on the final draft plan and next steps for project implementation. Request a Community Advisory Committee member to come to your meeting!
Download the Meeting Toolkit here.
Next Steps
Community input will help inform recommendations from the River Road and Santa Clara Community Organizations and the Community Advisory Committee, which will be shared with the Eugene and Lane County Planning Commissions. The formal adoption process will include work sessions and public hearings with both Planning Commissions, who will each form recommendations to Eugene City Council and the Lane County Board of Commissioners. The Council and Board will then hold their own public hearings, deliberate, and take action on the plan.
Visit engage.eugene-or.gov/rrsc-neighborhood-plan to view neighborhood planning documents, outreach materials, upcoming events, and more.